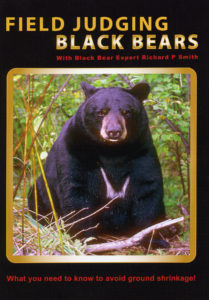 "Ground Shrinkage" is a term that black bear hunters become all too familiar with because bears often look bigger than they really are, especially to hunters who have seen few, if any, bears in the wild. It's common for bear hunters, even those with plenty of experience under their belts, to shoot bears that they think are big only to find out they are smaller than they thought when they recover the bruin they shot.
Is there a way to avoid ground shrinkage when bear hunting?
There are no guarantees, but one of the best ways is to learn as much as possible about judging the size and sex of bears. One of the best ways to do that is to view a 46-minute DVD produced by veteran bear hunter and outdoor writer Richard P. Smith from Marquette. Knowing what an issue ground shrinkage can be while bear hunting, he put the DVD together with the express purpose of educating hunters about sizing and sexing black bears.
The DVD is titled "Field Judging Black Bears" and is subtitled "What You Need to Know to Avoid Ground Shrinkage!"
Black bears are one of the most difficult big game animals to field judge for a number of reasons. Consequently, many beginning bear hunters, and even those with years of experience, find themselves confronted with ground shrinkage when they recover bruins they shoot. Besides shooting smaller bears than they would like, some hunters end up shooting females when they would prefer taking a male, but don't know how to tell the difference.
Veteran bear hunter Richard P. Smith, in cooperation with other experienced hunters like himself, have come up with a number of simple methods that anyone, regardless of experience level, can use successfully to field judge black bears. These five methods will help reduce your chances of experiencing ground shrinkage on your next bear hunt as well as providing the knowhow to distinguish between males and females.
Excellent video and photographs of various size and sex bears, combined with detailed explanations, provide the audio and visual information you need to be able to accurately judge the bears you see while afield. To make sure you know what Boone and Crockett caliber black bears look like, no less than four of them are shown taken on camera. Smith himself is shown shooting two of them with a muzzleloader. The other two are bow kills.
Smith has two books in print about black bears and bear hunting besides this DVD. They are the 2nd edition of Black Bear Hunting and Understanding Michigan Black Bear. He's also written a number of books about deer hunting. The bear hunting expert has bagged three bruins that are in Boone and Crockett Records and the largest of those, an adult male with a skull scoring 21 14/16, is the second highest scoring black bear for North America in muzzleloading records.
He has four record book bears bagged with bow and arrow to his credit, too, which are listed in Pope and Young Records. He's taken two book bears in Michigan with a muzzleloader. For more information, please go to Smith's website: www.richardpsmith.com. His DVD and books can be ordered from the website. The DVD and books are also available from some sporting goods stores and gift shops across the state.