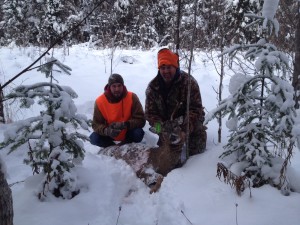 Those few days in November are truly a special time of year!  Over the last 27 years, I have had the privilege of making the trip with my Dad ( his 63rd trip), my son ( his 12th trip) and for the first time this year my future son in law.  Every year is special and provides memories that will last a lifetime.
We desired a change for the upcoming season and after a few conversations with Gary Morgan, we decided to book with East Lake Outfitters.  And we had a fantastic trip! There was lots of snow and very cold temperatures, and we knew the deer herd was drastically reduced because of the previous harsh winters.  But we all saw deer and I was blessed to harvest a 5 point buck on our first morning, which unfortunately was the only buck the four of us saw.  Gary and Troy worked very hard to provide a great experience and the camp atmosphere was exactly what we were looking for!  We eagerly booked for the next season, and will have other family attending with us as well.
The U.P. experience for me is getting away from a hectic work routine and spending time with family and friends enjoying God's country.  If we are blessed to take a deer, that is a bonus for the whole experience.  We look forward to the 2015 season and the memories that await.
Jeff Smith
Operations Manager
Corners Limited
Cell: 269-207-0088