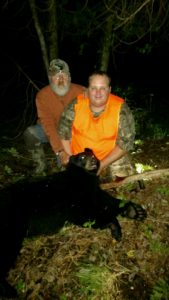 Black bear hunting in da U.P…..eh.  On September 15th, 2016 my dream of bagging a Michigan Black bear came true.  My name is Nick Grillo and I am an avid Outdoorsman.  I have always been around hunting but I started out deer hunting when I was 14.  Deer Hunting has always been one of my main passions in life, that is until I sat 7 yards from a black bear, face to face at ground level.  Man….now that was a rush.  I still love deer hunting, but definitely gained a huge respect and passion for bear hunting after that night in the hardwoods.  It all began 5 years ago when I started applying for my bear tag.  My family owns 80 acres near Gladwin, MI which provides a great habitat for our hunting pleasure.  The past few years we have also spotted several bears and sign on the same property.  One year we saw 5 different bears, so I was hoping to draw a tag in Gladwin and to do it myself on our property.  I am glad I did not because hunting with Gary Morgan of Wild Game Dynasty (WGD) was the best hunting decision I could have made.
            I decided going into the fifth year I did not want to wait another five years, or more,  to be chosen for a bear tag.  So, I planned to try for the second hunt of the season in the U.P. Before I applied I called and booked a hunt with WGD.  I have heard good things about them,  but have not hunted with them.  After discussing a few things with Gary, I knew that he was very knowledgeable and knew it was the right decision.  I got my tag and planned on hunting five days starting on September 15th, 2016 which was opening day of the second week.  Gary was very helpful in talking me through what I would need and what to expect when it came to bear hunting in the U.P.  The plan was set, gun was sighted in, gear was packed, now just the anxious feeling of waiting for the hunt.
            On Friday,  September 15, the day finally arrived to head up to the U.P. for my hunt.  I live about 4 hours from the WGD camp in the U.P.  After chatting with Gary, my plan was to arrive at the camp around noon to 'claim my bunk' then head out for the evening hunt.  I decided to enjoy the trip to da UP and arrived in camp at approximately 1 PM.  I was the last one out of the four that were in camp for the hunt.  I was shown my sleeping quarters and told not to rush,  but to be ready to head out hunting within 20 minutes.  In other words, let's go hunting!  So, I moved quickly to unload and unpack, switching out my street clothes for hunting clothes and gear…just in time to walk out and do a quick meet and greet with the others in the camp.  Handshakes were exchanged as we were all loading up in our trucks to drive out.  Gary instructed me to follow him, as he  had to drop off two other hunters before going to my spot.   Waiting a few minutes quietly in my truck with the windows down allowed me time to enjoy the nice quiet sounds of the woods.  Anticipation was at a high when Gary arrived back after walking the other hunters to their spot and taking me to mine.  Our drive took us to the end of a two-track where we parked and left my truck.  Gary instructed me that it was a mile and a quarter walk back and asked if I was fine with it.  I was and we began our walk.  It was an easy walk for the most part, taking a nice steady stroll, talking out a few points on way.  "Silence was golden" were my instructions as we were a bit closer to my hunt spot.  Gary showed me where I would be sitting then he took his route down to the bait site.   The bait was obviously 'hit' as the logs had a look of being tossed about.  He refreshed the bait before leaving back to the camp.  It was here that my bear hunt finally began.
            My hunt spot was on top of a ridge looking down at my bait site about 65 yards away.  The bait was about 40 yards from a steady, moving creek in the hardwoods… a few miles from the nearest road.  It was a beautiful sit.  My set up was on the ground in a fold up chair, camouflaged from head to toe, orange vest over top and a tri-pod and my video camera aimed right at the pile ready to hit record if I saw a bear coming in.  The last few years my interest to film my hunts has grown and my goal was to self-film my first bear taken, if possible.  Above all I was there to hunt.  However, If the situation worked perfectly, I was going to get it all on film.  Nearly 5 hours into my hunt no wildlife was visible, but being that far off the beaten path, not hearing a single car, dog bark, or other hunter…I knew that the chance was possible to get my bear.
            Without hearing a thing, I caught movement to my left.  I turned to see a black bear coming over the ridge only 7 yards from me!  I am on the ground looking right at this bear.  The bear glanced my way once and kept walking straight in front of me to about 15 yards.   He then took a wide circle to get to the bait.  My camera was on while the bear is circling and aimed towards the bait.  The bear walked to the bait and I took one last look around to make sure there were no cubs following, making sure this is a legal bear.   One more glance at the bear and I know right away that this is a bear I want to take.  I took the safety off and the bear looks up towards my way.   I looked at my camera one final time to make sure the bear is in view, the record button is on and thought, "this is going to happen".  I was shaking badly but took one last deep breath and squeezed the trigger.  The shot was perfect and the bear dropped right on top of the bait pile without even taking one step.  With a double-lung shot from my Thompson Center Pro Hunter 7-mag rifle I put the bear down right in its tracks.  I chose a 180 grain bullet which is big but I did not want to take a chance with my first bear hunt.  I could not believe this just happened.  I took a few moments to watch the bear to make sure it did not get up… then celebrated with a few "Yes!!!!,I can't believe it" moments before I turned off the camera and called the guys back at camp.
            I text and made a call or two to my wife and buddies as my excitement remained high.  With Gary's approval, I walked down to the bear to take a few pics before dark.   When the two WGD guides, Bob and Ross, arrived they took a few pics for me posing with my trophy.  We field dressed the bear and began the very, very tough job of carting the bear up the ridge to the trail and the mile and ¼ trek back to the truck.  There is no way at all I could have done this job without Bob and Ross.  They worked very hard and were just as excited about the bear that I was.  They seemed more like friends to me in the woods than strangers helping drag out a 200# bear out of the U.P. swamp.  They were awesome to be part of my experience and were 'key' in the job of carting it!
            Gary had a processor already recommended and with one call  they agreed to meet us at his shop despite our ETA falling just short of midnight.  We dropped off my bear, left the processor 'caping and cut-n-wrap' instructions and headed back to camp.  With a quick bite to eat of food my fellow hunters kept warm, I shared my trophy kill on video, we told a few hunt stories before heading to bed for the night. 
            I could not believe I was tagged out on the first day of my hunt.  The hard work that WGD put in paid off and showed in the success on my first night out.   WGD is definitely on my recommend list and I cannot wait to do it all over again in the next few years.  My goal for my first Black Bear was to make it a Michigan Black Bear and on September 15th, 2016 with a lot of help from Wild Game Dynasty, I was successful.