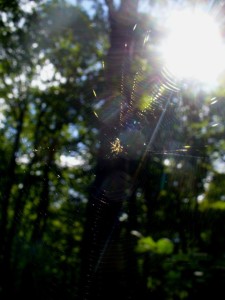 It's exhilarating to be on foot in the woods, with the knowledge that if you head left and follow the trail, you'll end up in North Dakota.  If you hang a right, you'll end up in New York. It gives me chills to ponder this type of decision in light of all of the daily choices I make. Imagine wandering off, with only shelter, water and food to worry about as you move across the nation at a pace not often experienced in our modern world.  When you complete a long trail like this in one go, it's called a "thru-hike."
This is the dream that the North Country Trail (NCT) offers its visitors.  My wife and I shared in this dream briefly in 2012 when we were invited to spend a weekend at a cottage on East Lake in the Upper Peninsula of Michigan.  We were able to put some miles in on the NCT in the Hiawatha Shore-To-Shore (HSS) section of the trail which was nearly right outside the cabin door.  It was a lighter hike than my last trip on a long trail – the Appalachian Trail, which I thru-hiked in 2004.
The Appalachian Trail (AT) is a tiny tot compared to the NCT in mileage, but is about 43 years older so it has a more developed tradition along its length.  While the NCT was started in 1980 and isn't completed yet, it is quickly catching up with a huge number of people who have taken to breaking and maintaining trail along it. The AT meanders from Georgia to Maine following the Appalachian chain of mountains covering around 2200 miles.  The NCT will eventually cover 4600 miles from New York to North Dakota and has more than the AT's length in completed trail already. I think we covered about three miles of that during our weekend in East Lake, but seeing the guiding blue rectangles (called "blazes") on the trees made me think fondly of my past travels.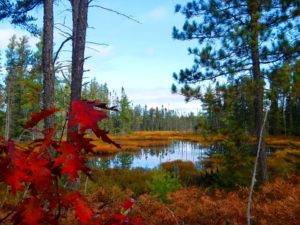 There is something noteworthy that can be uniquely felt while endeavoring to complete a long distance hiking trip that is much harder to experience on a day or even a weekend hiking trip. Tell a person that you are trying to hike thousands of miles all at once, and you'll likely find a listening ear and a helping hand.  On the long trail, one can feel what it's like for a group of people to come together and pull towards the same goal of completing the walk.  Every day, your job is to walk.  Your job is to drink clean water, breathe crisp air, and eat nourishing and rejuvenating foods and to walk.  At the end of the day, you rest, you contemplate, you sleep well (once you get used to the exercise, that is).
Our little section hike of the NCT helped remind me of these things and brings a smile to my face. I hope one day to create some new memories with my little girl on the North Country Trail, so that she can experience a similar magic to that which I found during my time in the woods.
copyright 2015 Tim Pierce.