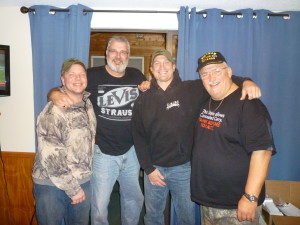 In today's society, instant gratification is virtually nonnegotiable.  We want it, and we want it now, whether "it" involves grabbing a burger from McDonald's or speeding down the highway on your way home from work.  Simply put, we don't like to wait around for stuff anymore.  If we don't have to, we won't.
That attitude has trickled down to nearly every aspect of our lives, including deer hunting.  Growing up, the U.P. looked to me like a paradigm of the great outdoors.  It was brimming with wildlife, a special, almost mythical quality surrounding all it had to offer.  Nowadays, the U.P.'s accrued a slightly less glowing reputation.  People seem to think the deer population has depleted.  As a result, the droves of hunters flocking across the bridge have significantly decreased.  What those hunters don't seem to realize, though, is it's not the deer count that's changed; it's them.
Despite the seemingly collective thought circulating among hunters that the U.P.'s no longer the glorious hunting ground we once believed it to be, the reality is actually quite the opposite.  In fact, the deer population appears to be on the rise, especially after two consecutive years of mild weather.  The conditions are gradually turning in favor of a spike in deer numbers, thanks to mild/early springs, which experts believe to be a major contributor to the food sources and lower predation.  As a result, stress levels for the herd reduce, and we've got a lot more bull's-eyes to choose from in the forests of the U.P.
With twenty-five years of hunting experience in the Upper Peninsula, I've collected an arsenal of techniques that allow me to take full advantage of the U.P.'s stellar opportunities for sportsmen.  Because I've focused most of my hunting in the eastern region of the U.P., namely Mackinac and Chippewa counties, I've adapted some specific skills that are most beneficial in those particular areas.  To start with, my U.P. hunting experiences have always been premised on pre-season scouting.  Over time, I've noticed that there are pockets of deer, meaning that deer signs and sightings can be abundant in one area, but just seven or eight miles away, be sparse at best.  It's only through pre-season scouting that I'm able to learn these important details.
These pockets change over time, thus necessitating annual reparatory scouting.  If hunters expect to go back to the same spots year after year, expecting the same results, they'll be disappointed with the lackluster results, not to mention they'll be eliciting the beginning symptoms of insanity.  I've come to understand, over time, just how it is that I learn my hunting area as much as possible before embarking on a hunt.  I've learned the hard way the difficulties in attempting to navigate an area with which I'm barely familiar.
A typical day in a deer blind in the Upper Peninsula may not rival the influx that occurs in the Lower Peninsula, as it usually consists of a couple handfuls of deer throughout the day, or maybe even a single deer.  It's that incidence of deer sightings that's caused hunters to incorrectly assume that the U.P. simply isn't what it used to be.  What's really going on, though, is that while the Lower Peninsula is teeming with deer, as well as hunters as close as one-hundred yards from your deer stand, the Upper Peninsula's maintained all that you remember it to have possessed.  It's still got a solid amount of deer, and it still exists as a hideaway from the oft-overpopulated woods of Michigan's bottom half.
From grouse to woodcock to deer hunting, picking your spots can be tricky, but with a little assistance you may experience bag limits that you didn't know existed in the land of Superior.