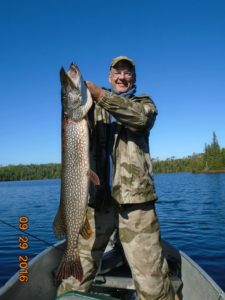 By: Jim Kushner.
Not long after moving to northern Michigan I found myself quickly becoming friends with Matt,a local guy. Our common interests, hunting & fishing was of course one of the things that ignited what would become one of those rare friendships that lasts a lifetime. Matt became one of those friends who will spend his days off helping you when you really need it, one of those friends who says "whats mine is yours" and means it.
Of course it was not always that way. When I first found out about Matt's interest in hunting I made a casual inquiry about where one might find a decent spot to scout for the upcoming bow season. I got some pretty vague answers. He would later tell me "that was before I knew if I could trust you or not". Ok, I get that one.
The more we worked together the more stories I heard. One in particular was about a backpacking trip to Ontario where he had some of the best trout fishing found anywhere. I don't remember exactly how long it took but I finally found myself invited to go along on one of those trips. To be honest I am pretty sure that Matt's regular group of friends had slowly grown apart with careers and family and none of them could make it that year, and Matt really wanted to go. The invitation came with one condition, never tell anyone where this place is. I get that to.
It would be an early spring trip and the hike in was reported to be 4 to 5 miles while carrying a full pack and a canoe. The more I heard about the trip the more I started to think that just getting to this lake was an adventure in itself. I was warned, get yourself in shape, it's a lot of tough walking and the first leg is all uphill. I was running and doing 5 mile hikes, many times carrying my young son on my back part of the way.
We left early in the morning and made the drive up north west of Sault Ontario. I had never been in this area before and all I will say is the closest town is Wawa. We parked just off the road on a level grassy spot and Matt said "we're here". All I could see in every direction were trees and a lot of thick brush. We unloaded our gear & started picking up our packs. For what would only be a three day trip my pack seemed awfully full and heavy. Matt offered to carry the canoe first saying that although it's all uphill the "trail" is also a lot easier going. So, he would lead from the back that first leg of what would really become an adventure of a lifetime for me.
When it was my turn to carry the canoe I found out just how much fun this was going to be. Not only were you walking half blind with that thing on your shoulders (I was mostly watching only the back of Matt's boots and following his voice as we marched on. The other issue I discovered was that in the early spring all the brush that has been bent over by the heavy winter snow is still all bent over. Maybe a good reason to carry the canoe on that first up hill leg. The technique is simple, when you hear or feel brush hitting the front of the canoe you tip the front toward the ground and then you push. That didn't always work and we had to make occasional detours. I quickly found out why the hike was "4 or 5 miles" nothing was flat or straight, we seemed to be always going up or down or crawling under and over some big fallen tree. After a while I had no clue where I was or how to find the road if I had to.
We took turns carrying the canoe and in all honesty Matt probably carried that miserable thing on his shoulders more than I did. It was a hike but we stopped to rest occasionally and I always found myself more & more anxious to get to the lake. We crossed a couple of small fast running creeks, bulled our way through more brush and suddenly I could see what could only be a lake in front of us. Yes Matt said, that's a lake but it's not "our lake" more hiking and bulling our way through brush. Then we were there, an open piece of high ground right on the shore of a modest size lake, surrounded by trees on one side while a good portion of the other side was a jagged rock face that came down right to the waters edge. There was a small piece of blue plastic nailed to a tree nearby that apparently marked this as an official Provincial something or other camp site. There was a black stained rock fire ring and a log seat but not much else and not a lot of room should anyone else come along. Judging from the fun hike in I didn't expect to see anyone else.
This lake I was told as we sat down to rest a bit before setting up our tent had both "specs" Brooke Trout and "grays" Lake Trout in it but mostly there were grays here. Matt seemed a little surprised at how anxious I was to start fishing. The trip in did not dampen my enthusiasm one bit. So we pieced together our rods and prepared to go out. Matt being the more experienced canoe operator took the back seat and he acted as guide. He quickly had me catching fish. My first gray hit on a smaller size Little Cleo that I had purchased because it was painted in Brooke trout colors. We caught several fish that night, only keeping enough for our dinner. Matt was so sure of our ability to catch our meals we had brought along little else in the way of food.
We were lucky on this trip, the weather was to cool for any bugs and warm enough that no heavy clothes were needed. I actually woke up in the middle of the night finding I was to warm. We expected the temperature to drop considerably during the night but it didn't. I took off my heavy sweatshirt and left my bag partially unzipped the rest of the night. The sun was already up when we crawled out of the tent. Nothing like a good hike to help you sleep on the ground I guess.
Day two was another nice day and I was advised we were going to fish a different spot that day, more carrying that canoe? The answer was not only that but we would be headed back the way we had come in and then we would have to hike up a waterfall. Well, next to it actually. Only in Ontario it seemed to me would you find a lake at the top of a waterfall. There were in fact 3 or 4 small lakes up there and the only fish caught in them were "brookies". There was a particular size and color of spinner that Matt had previously warned me to buy if I wanted to catch fish because brookies are "always" caught on these spinners. I tied one on and cast where I was told to cast, he was right, they hit that spinner off and on all day. Again we only kept enough to eat. The only down side to this day was exactly that, having to carry a canoe back down that waterfall. Luckily the trip back to camp did not seem as far as the trip in had been.
The last morning we fished a while before packing up and hiking out. We again caught fish but not as frequently as Matt reported they had done in the past. But for me this was a great adventure, the only bad part was that it was so short. The hike out was not so bad and luckily, the last part was all downhill.
I all I could think about on the long drive home was doing it all over again, especially when Matt told me that there were other lakes nearby that held lots of fish.