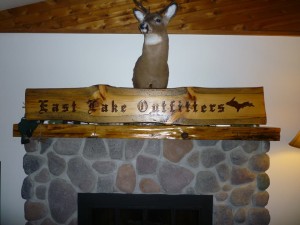 As the three of us continued our walk down the ole' skidder run I kept wondering where in the heck we were going.  I yelled ahead a similar sentiment: "Hey, Bob! You must've walked back in here before, huh?"  There was no answer.  The three of us continued back into no-man's land with my brother Bob leading the way.  Trailing about 50 yards behind was Gage and I.  Gage is one of Bob's three sons (my nephew).  Some might say that Gage and I lagged behind to hide our private conversations from our "lead scout," but our lag was actually just our way of telling Bob to slow down.   Our process of finding that just-right hunting spot was showing its success once again.  All of a sudden we came upon an area that elicited an above average amount of deer sign.  But, not just deer sign – buck sign, too.  The deer sign was fresh and the buck sign was stale – a perfect spot to lock into the GPS during our annual May scouting session.  Although I had a pretty good idea of what to look for when scouting for a deer hunting spot, I asked my brother, "So what made you trek back here and find this spot?"  He pointed at the terrain and mentioned the transition between one area and another that created a pinch-point.  He reminded me that not all pinch-points are "hunt-able."  Because I love to talk about this, especially with Gage in the mix of things, I asked that he explain himself.  I think Bob realized his explanation gave all of us a chance to rest our legs before trekking into another no-man's land.
As an outfitter and guide in Michigan's eastern UP, the challenge of maintaining viable deer hunting spots is always present.  Some of our challenges are easily met and some continue to be just that – a challenge.  I have come to realize, though, that challenges are nothing more than an opportunity for success.  At the end of our scouting escapade, we always put together a spreadsheet with all the tidbits and details from each spot.  Thus, begins the work moving forward…cataloging our year-round scouting information from each of these spots.  I can't remember a trip to the UP where I didn't stop and check a few of our "hot spots" to decide if they're worth keeping for the fall hunting season,  or if it's time to delete them from our spreadsheet.  Last year was not unlike a few within the past 25+ years.  The deer sign was not as prevalent as we had hoped.  It was obvious the previous winter was a tough one on the deer herd.   Scouting trips are always a nostalgic and meaningful stay at camp.  They give us a chance to review what we were seeing out in the bush…or sometimes the lack thereof.  As Gage reiterates from year to year, "It separates the pretenders from the contenders, and we ain't pretending!"
As we mold our spreadsheet over the course of several months, our notes affirm the importance of keeping current and paying attention to all details.  Whether we notice a lull in deer sign/increased presence of wolf sign or a change in local food source, etc., we realize the significance of year 'round scouting.  As an example, we once hunted an area where deer sign was prevalent.  It was a picturesque area hidden from the world, so to speak.  It hosted all the components of a great deer and bear hunting spot.  For bear, there was plenty of water, including a huge beaver pond, and as a bonus, a pair of nesting swans for viewing pleasure.  For deer, a lot of pinch-points from bedding area to feeding areas were interspersed throughout.  We decided to go back to that area which had been absent on our spreadsheet. What we found was a completely dry beaver pond, lack of game sign…and the nesting swans were gone!  "Son of a gun…I ain't promoting a hunt spot without eye candy!" I thought to myself.  A wolf pack was not what we'd expected for our viewing pleasure…no offense intended.
Last year we had a few people that were successful early in their hunt – tagged out early.  Usually, these hunters want to know what activity is available for the remainder of their stay.  It is at that time that I grin from ear-to-ear and say, "You can tag along with me while I'm baiting and checking hunting spots if you want."  Rarely do we hear no for an answer.   That activity begins each day once breakfast has finished.  It usually concludes four or five hours later…exhausted, but exhilarated.   I remember one hunter/client asking me why I was always checking my smart phone.  "Can't your emails wait 'til you get back to camp?" he asked.  I reminded him we have hunters out there that need an available flow of communications with their guide.  I was simply checking for texts and maybe a phone call.  As we drove and then walked from one area to another, carrying bait, a backpack with the necessities, etc….my 'companion guide' began to understand the aspect of scouting just a wee bit better.  I noticed his questions were less and his comments were more.  Before we had departed camp he noticed I had a backup supply of clothes and boots.  'Show n tell' of my backpack contents were not just hunt-related items, but items like bottled water, a couple energy bars, a hatchet, a small first aid kit, extra rope, tape, cell phone battery, flashlight, etc.  We were back at camp and he offered some good advice…an added item or two for backpack content consideration, etc.  He did notice one thing that was a surprise: trail cameras are a wonderful tool on one hand and a pain in the rear end on the other.   He noticed keeping tabs on trail cameras at two to three dozen hunting spots poses a challenge all by itself.  My explanation of what the trail cam can do for us seemed to make sense to him.  "A guide or hunter's success can live and die by the addiction that they offer," I told him.  "They aren't a substitute for good ole' fashioned scouting."  They are, however, a wonderful tool that helps manage our precious time out there…out in the woods.
The conclusion of our hunting season brings another challenge to our activity list – collecting and storing our hunting gear, namely hunting blinds, tree stands, etc.  Removing two dozen ground blinds and half as many ladder stands can bring exhaustion to most anyone.  However, proper time management can lead to an improved 'next season'.  It reminds me of performing exit interviews to employees that voluntarily leave employment with a company.  Before we pack up and leave we always take time to post-scout each area.  This will help us with preliminary judgment for stand placement next year.  Time is precious!  Besides, the dishes are piled up back at camp and dinner must be ready when the hunters return from the woods…hopefully, with a story to tell and a blood trail to follow.   This is where the real fun begins!  Some of the contents of the backpack are changed out, along with everyone in camp wanting to be a part of the action.  All good!
As with every year, the snow will melt.  Boots-on-the-ground scouting will start up again.  My brother, nephew and I will redo our spreadsheet back at camp, having in mind the type of hunters we think will appreciate each spot.  Very few spots are a quick walk.  Most are well off the beaten path.  Some are quite a hike.  I wouldn't hesitate to put my best friend in any of these sites, or sit there myself with high expectations, nonetheless.  The UP offers a vast wilderness that cannot be compared to anything "below da' bridge."   It can test the patience level of the best of hunters and at the same time reward the person who decides to fully "plug in" to what is at their beck and call.  Let the memories begin.