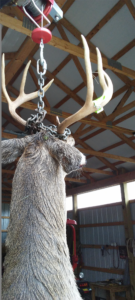 By:  Jim Kushner
I first went deer hunting with my Dad when I was around 12, it was just a day trip & other than some deer that had been chased across a field we were driving past I don't remember seeing anything. Over the years Dad & I hunted together a lot. I was with him and a younger brother on the opening day that I shot my first buck. He wasn't close enough to help with the first field dressing job or dragging it to the truck but he congratulated me and helped to hang it up back in camp that night.
Now many years and a few deer later he and I still hunt together, well, within half a mile or so of each other most of the time. We live that close to each other and we both have a few acres that we can hunt. At 85 he doesn't go to far from the house and he likes knowing I am only a phone call away if he needs help. Before cell phones we either hunted at my house or his but now it's kind of nice to be able to walk out the back door to a comfortable stand. Mine is still a ladder stand but his is an elevated box blind with a heater and it's a pretty easy walk from his house.
This year on opening day I checked my phone at about 9 o'clock, sure enough there were two messages from Dad. The first one was that he had shot a pretty nice buck and the second one was that he had found it and was going back for the tractor. He didn't answer my call so I sent a text to my sister who was at the house to entertain Mom while Dad was away. He had managed to do it all by himself and the 7 point was already in his pole barn, and it was a big one. Good for him I thought as water dripped onto my phone. My day was wet and uncomfortable, it didn't help that not a single deer came my way. Things had been pretty slow around my place this year, I had only seen two different bucks since October 1st, a small six or seven point and a fork-horn. Even the doe sightings were minimal.
After changing into dry clothes and wiping down my gun I drove over to Dad's to look at his buck. He was more than happy to show me and as we always do, relive the details at least twice. I wasn't prepared for the rack this deer had. He said it was big and he also said it was a seven point. I had the mental picture of a smaller frame 8 point that was missing a point or just wasn't mature enough to grow it yet. This deer was just the opposite, he was a mature 8 point who just didn't happen to have one brow tine. The fact is this is the biggest buck he's ever taken. We went inside for the traditional beer and discussed how it all happened, one more time.
Dad was in the stand before daylight. Shortly after it got light a doe came into the opening he had been lightly baiting for only a week or so. He said she was very nervous but stayed there for a few minutes. He suspected that a buck may be following her as he was sure she had not detected him. That's when a set of long tined antlers kind of appeared from almost under his stand. The buck was headed straight for the doe in classic bird dog fashion. Dad didn't wait to see what he did next. He took his shot when the buck was still only about 30 feet in front of him. Both deer were out of sight before he could shoot again and that's when he called me. He poured a cup of coffee and as he waited a bit before tracking his deer several more came by his stand. A forkhorn came in first and fed on corn for a few minutes. Dad couldn't find any blood so he took a walk in the direction the deer had run, on his second loop he found the buck about 40 or 50 yards away. He had hit low in the shoulder and said the lungs were pretty torn up so he couldn't explain the lack of blood. He said the hardest part was getting the deer into the tractor bucket, other than running over one 7 foot pine tree everything went just fine.
Dad didn't hunt anymore after that and suggested I try his stand. My deer sightings were not very encouraging so I decided to accept his offer. I saw quite a few deer but couldn't manage to kill one before the season ended. Then the muzzleloading season started, I cleaned my rifle and loaded up my old caplock. The first morning I walked in I could hear a deer move down the hill in front of me, when I checked my trail camera I was a little surprised to see that it had been a buck, nothing real big but the one side I could see had at least 3 points on it.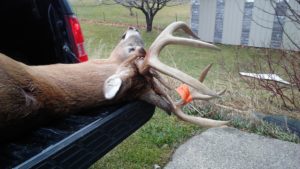 On the third night I was ready to go home without having seen a deer, then I looked behind me for the 500th time and was really surprised to see a big set of antlers behind the junipers and pine trees about 50 or 60 yards away. There was no question about shooting this one, I grabbed my gun and and cocked the hammer. Then I slid open the window on that side, it sticks a little so I only opened it far enough to get the barrel outside the blind, afraid of making any noise. There was a problem and I knew it. The only way to shoot out this window is if I did it left handed and I am pretty much crippled when it comes to doing anything left handed. I got the gun to my shoulder and lined up the sights, I was relieved when he started walking toward me. He stopped once and I had the front sight on his chest but didn't like the straight on shot so I waited. When he stopped again he was only 10 yards away and luckily he had turned enough that I was aiming at his shoulder. The .58 caliber round ball hit the top of his shoulder and angled down through the spine and into the chest. I recovered it under the hide on the far side. Of course all of that was hidden from me by the huge cloud of white smoke that 100 grains of Pyrodex always produces. When it cleared my buck was laying on the ground, only 10 yards away. That was the first time I got a real good look at his antlers. Dad was not the only one who had taken his biggest buck ever this year. I have a couple of 9 and 10 points but none of them has the mass of this buck. I have to admit I was having a little case of buck fever as I was clumsily trying to line up the open sights on him. Good thing it was only a 10 yard shot.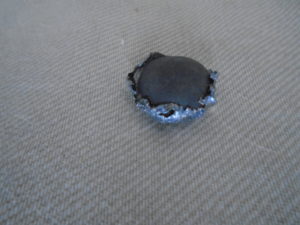 I had to tell Dad, there was no blood trail with this one either. We had that traditional beer at his kitchen table again and since it was his stand he had a lot of questions about exactly what trail it was on and where it was when I first saw it. Our conversation ended that night after we discussed some of the old days of deer camp. He clearly missed the old days when he and his brothers and their father used to hunt state land from an old house trailer year after year. He made sure I sent pictures of his deer to my cousin so that my uncles could see it. One of them said, oh he always gets a deer. I'm not sure about that but I know he is pretty happy to have taken this one, especially at the age of 85. This is the first decent buck I have ever taken with a muzzle loader and it happens to be my best ever, along with being taken from the same stand as Dad's buck. It turned out to be a pretty special season this year.