By:  Gary Morgan.
Being a hunting guide for whitetail deer in Michigan has its challenges.  Specifically, the Eastern Upper Peninsula is a pure challenge.  Big timber goes as far as the eye can see, setting the stage for a way to find some of the greatest strain of trophy whitetails in the lower 48.  Finding a thriving band of deer in 'da UP' is like finding a ball cap full of morel mushrooms – they exist in pockets but not necessarily in the same area year-after-year.  "I've hunted trophy whitetails in a lot of areas…the Eastern UP has to be one of the toughest areas of the United States to hunt", says consummate hunter Mark Periard.  Mark's favorite UP hunting spot exists just a mile south of the largest body of fresh water in the world – Lake Superior.  A body of water that heavily influences the land masses that surround it…mainly Michigan's UP.  Despite relatively no elevation, the average annual snow fall can reach over 400 inches, sometimes beginning in early October and "hanging on" until mid May.  By saying an animal that survives this type of habitat has to be quite special is an understatement.
As a Michigander I began traveling across the Mackinac Bridge nearly 30 years ago in pursuit of an EUP whitetail.  That particular trip is when I caught the bug…a bug that I have not sought to cure.  In fact, quite the opposite…I started an outfitting and guiding business in that same area that provided so much to my hunting palette.  With that in mind our whitetail hunts are booked solid from one year to the next…with most of our hunters being return clients who also look forward to the Superior Experience year-after-year.  Most of our clients go home without punching a tag.  A successful hunt is measured differently from one fella to the next, says 93 year old Wes Smith.  "I've hunted 64 straight years in Michigan's Upper Peninsula".  Wes is proud of his family's hunting heritage.  Three generations of Wes' family began booking with East Lake Outfitters (ELO) a few years ago.  It all began with a telephone call from his son, Jeff, and continues with a year 'round friendship.  "When I was told we need to build a foot bridge so Wes could scale Little Bear Creek to his hunting spot, I didn't hesitate to climb on as the lead "engineer"" says, ELO guide Ross Chambers.  "Deer hunting is an important part of deer camp…but, not the most important", added Chambers.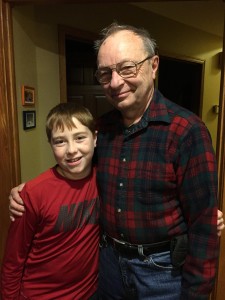 This year began much like previous deer seasons…with one very important detail:  One of our hunter-clients booked his stay at ELO a hand full of days ahead of the season.  Bruce had emailed several months ahead and offered his expertise at the ELO camp in finishing a flooring project once started and never finished two years prior.  So on or about November 9th Bruce "Almighty" arrived in camp with his contractor tools eager to finish "Gary's flooring project"…telling me, "I work best by myself".  I caught the hint he didn't need anyone, particularly me, holding any dummy end to a tape measure.  Besides, this was an opportunity to get all my deer/gun hunting spots honed before the season opener, November 15th.  What a blessing!  Bruce finished the project and also installed a replacement oven-stove …it's what a contractor does.  I say it is what an ELO friendship has created.  I told Bruce, "you'd really enjoy hunting when the Smiths come to camp…they arrive the day after you and the first-week hunters depart."
It seems ELO was ready for business and the other two hunters arrived in camp.  Both fellas had a history all their own…one began their hunting at ELO a couple years earlier and the other was hunting for his very first time.  "I've never hunted before.  I think I've done my homework but I wanted to team up with an outfitter that understood my situation", says Erik Cheng.   Opening morning began with a family-style breakfast and a great conversation.  Bruce and the sophomore hunter, Dan, knew their hunting spots from a brief visit the day before.  Erik followed to his spot…showing that big timber expression.  I assured him the trail in and out was properly marked.  It is at that moment a hunter realizes the importance of a professional outfitter…counting on their word for a successful experience.  I get it!  Preparation is everything…prepping for so many things that will (hopefully) never happen.
Not long into Erik's hunt he text'd his culmination of hope for success.  He watched as a dandy buck strolled into his area, stating, "I placed a great shot on a buck with four points on one side".  My response text assured him my ETA would be very timely.  Arriving at his hunt spot caught Erik poking his head out of his blind…."hey".  He stepped out to reiterate his hunting experience…giving a play-by-play.  We, together, tackled the task of finding the first blood.  Immediately we both knew this buck wasn't going far.  As a matter of fact Erik and I both eyed the buck lying not much more than 25 yards from where the buck stood at the point of impact.   A series of celebratory high fives and related comments ensued.  Then a pause from Erik caught my attention. He explained that the awesomeness of this whitetail deer actually caused him to pause in shooting.  "The buck walked into range, milled around for a bit before I pulled the trigger.  That buck was beautiful but I love venison", said Erik.  My repeated response showed how impressive a wonderfully placed shot for such a clean kill can be…especially for his first-ever whitetail deer.   I know Erik was awe struck, as was I…maybe for different reasons because of a different place in time of our hunting heritage.  Not sure, but I felt privileged…for sure!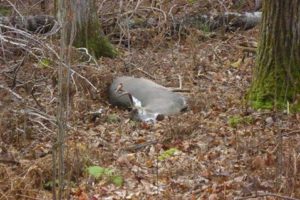 With Erik's beautiful seven point, chocolate-colored antlered buck along with Bruce "Almighty" passing on a couple smaller bucks, ELO's story continued with a humble epitome.  The next group…the Smith Family…arrived in camp as the first fellas departed.  ELO's report was good…unhunted spots showed optimism.  And, yes, a bridge project was completed just in time for Wes to check out his spot on the eve of his hunt….his 64th consecutive UP experience.   As Wes and his boys arrived in camp I stood in awe as we embraced each other…not just a handshake.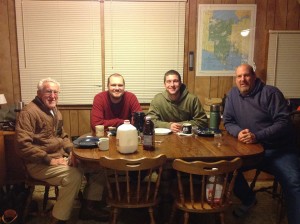 The next morning arrived as planned…a great breakfast with an accompanying conversation.  All is good in the EUP when a family can share the woods in hopes of tagging an elusive whitetail buck.  I shared their hopes.  Later that afternoon my friend and fellow guide, Ross, reflected on the history of the importance of hunting with family and friends.  A tradition that can dwindle if not careful!  Let's be careful.
Continued:  see related article A Superior Experience In Michigan's UP for the rest of the story.