By:  Amy Gauthier.
"Heel toe, heel toe"… A little girl walks in the woods pretending she's like Marty Stouffer from "Wild America". Not sure if I got that trick to walk quietly in the woods from that show, or from Michigan Outdoors, but I knew I wanted to be silent as I observed the wildlife on my parents little piece of Michigan paradise. My dad helped to instill my love of the outdoors at an early age, and I couldn't get enough of it. That love brought me to hunting and fishing, and continues today. However, a lot has changed since then. There are always new equipment, and gadgets to buy these days; but if we hope to bring new outdoor folks into the fold, we may need to break it down to the good ole days of a girl, some hiking shoes, and a small wooded lot in Michigan.
My fascination with the outdoors carried into my teen years, and sometimes spilled into my school work. I remember a paper I wrote in my high school English composition class.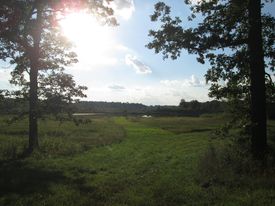 The assignment was to write a narrative focusing on the use of descriptive words. My mind went straight to my happy place: the route I took in the summer to my sanctuary, and fishing haven. I wrote about every sight and smell I could think of as my memory took that bike ride down the long path through the woods, which opened up to the beautiful sight of the small lake where I had spent my life fishing. The description was poetry to me, right down to the smell of cow pies as I meandered through the cow pasture. My teacher's black pen marked down her high praise, until the screeching halt where her red pen remarked "The smell of cow pies? This is supposed to be a positive descriptive assignment!" I was a bit taken aback that she didn't understand the relaxing ambiance of the country air. This simple appreciation of the outdoors is what keeps me going as an outdoors woman even today.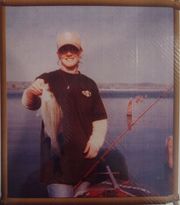 As I entered College, I learned that the sport of fishing could be "bigger and better". I participated in a Big 10 bass tournament as a member of the Sport Fishing Club. Big flashy boats, and big flashy tackle. I later had the opportunity to dabble in fly fishing with some folks who said this was the only way civilized people fish. I left that trip thinking I'm not civilized enough to fit in with the 'fly fishing culture". However, that experience would be a catalyst to bring about a realization in my later years.
After getting married, we moved to the Southwest Minnesota prairie with our rescue dog, an English Setter named Marty.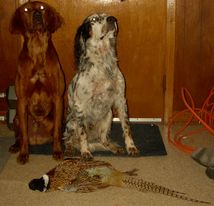 Minnesota may be the land of 10,000 lakes, but we soon learned that the southwest corner was NOT where the majority of those lakes began. We turned our sights towards the real outdoor fun in the area: pheasant hunting. I had a dog, and I bought a gun. That first pheasant season, my dog, my gun, and I went on many "hikes" in the Minnesota prairie. Zero pheasants would come home with us that season, but I got the itch for upland bird hunting and bird dog training. That first shotgun was a youth sized (I'm only 5 ft. 2 in.), pump action Winchester 20 gauge. Not only did it match my old single cab chevy pickup with my English setter seated on the bench seat, but when I racked it back, I could hear my dad's heavy old 12 gauge pump action. You can only guess, though, that this led to "bigger and better". In a few years I was dipping my toe into duck hunting and that required a stoeger semi-auto 12 gauge, and dog crates in the back of a newer, crew cab pickup. By our final years in Minnesota, my fair weather duck hunting days had waned. My focus narrowed to the uplands and my taste in firearms finally brought me to a 12 gauge over/under and a bigger pickup with more dog boxes, and storage for more equipment.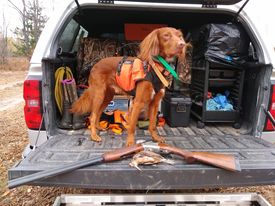 This brings me to today. We have moved away from the freedom of the public prairie land. Now residing in northern Indiana, the only place we find a taste of that freedom is in the north woods of Michigan for grouse and woodcock hunting. As we studied the MDNR habitat maps to decide on the day's grouse hunting locations, I noticed the names of pristine trout streams. Thinking of those streams turned my mind toward now wistful memories of my novice fly fishing outings. As I mentioned before, I was unimpressed after my first "fishing guides" introduced me to the sport in college. However, many years later during a stay with dear friends in Colorado, they graciously booked fly fishing lessons, and a fishing excursion for us and their whole family in Rocky Mountain National Forest. As we were gathered for the first part of the lesson, fly tying, the older gentleman teaching the lesson at the shop listened as I shared my reservations about fitting in with the fly fishing "culture". He replied "my favorite customers were two young boys who often rode bikes up to the fly shop to gather supplies. They fished with just a stick and some line." This made me realize that outdoor kids who grow up fly fishing in the mountains weren't so different from me. Just as I got on my bike with my rod, swivel snaps, hooks and worms, and yes, even my banjo minnows, they got on their bikes and rode to the trout stream with their pole embellished with fly line and tippet, and flies in hand. My first experience with fly fishing left me overwhelmed with new equipment, and a different culture. If I had started out simple, like those two boys, the joy of the quiet would have allowed me to grow into the joy of the technical aspects of the sport.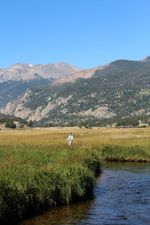 So, my advice to those who would like to dip their toe into the outdoors, but don't know where to start: keep it simple. Learn to enjoy the quiet calm first and foremost. Hunting and fishing have a lot of down time between the exciting moments. We need to learn to savor that down time as much as landing a coveted fish, or taking the perfect shot at a rooster pheasant over my bird dog. Take in your surroundings, breathe in the fresh air. Don't get me wrong, new technology and equipment can certainly be a blessing, but my simple days were the "good ole days". No need to rush into "bigger and better" for those starting out in the outdoors.
I think everyone should have the chance to enjoy their "good ole days" too.