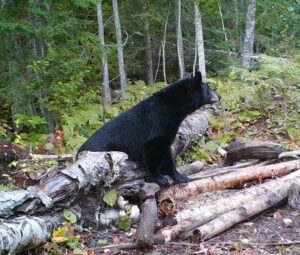 By:  Richard P. Smith.
After more than 50 years of bear hunting in the UP, I experienced something I've never seen before during the 2021 bear season. Before discussing that rare event, some background information is important.
I drew a bear tag for the third hunt in the Baraga bear management unit, as did some friends from the Traverse City area who I usually hunt with out of Lac La Belle Lodge in Keweenaw County. The group included father and son Amos and Doug Esman along with father and sons Kent, Shamus and Seth Megill. Both Shamus and Seth are college students and had a limited amount of time to hunt. 
Due to an abundance of acorns, bear activity had dropped off at the baits I planned on hunting on opening day of the third hunt on September 25. Shamus hunted a bait that had been visited by at least six different bears. Because Shamus did not know where that bait was, I took him to the spot and waited in my vehicle, so I could photograph him with a bear if he got one.
When I heard Shamus shoot at 7:05 p.m., I grabbed my camera and headed toward where he was hunting about a quarter mile away. When I arrived, Shamus was at the base of the ladder stand he had been hunting from, and he proceeded to fill me in on what happened. He told me he had bears in front of him since 5:15 and he eventually shot the largest of those, dropping it cleanly at the bait with his .308 caliber rifle.
While we were talking, I was facing the bait where the dead bear was about 25 yards away and Shamus had his back to it. At one point, I was surprised to see a live bear appear to the left of the bait, oblivious to our presence. When I told Shamus about the bear, he turned to look at it and the bear took off. I thought that was the last we were going to see of that bruin because most bears avoid people like the plague. The vast majority of bears won't show themselves at a bait if they smell a person there much less see and/or hear them there.
After the live bear ran off, I started taking photos of Shamus with his bear that I estimated would be close to 200 pounds. Shamus unloaded his rifle before the photo session started. While photographing the successful hunter, the live bear returned and stood on its hind legs against a maple tree about 20 yards away. This bear was also a male like the one Shamus shot and similar in size.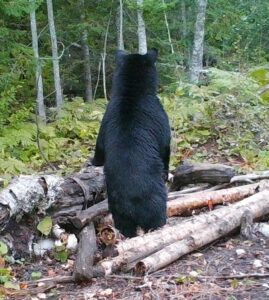 I approached the bear to try to get it to climb the tree it was standing next to, so I could photograph it in the tree. Instead of climbing, it took off again. Not long after I resumed taking photos, the bear returned and circled us at close range. Although the bear wasn't acting aggressive, its behavior was far from normal, so I had Shamus reload his rifle.
With a bear tag in my pocket, I could have used Shamus' rifle to shoot that second bear, and I certainly would have if it threatened us. Perhaps it was so bold because of the dead bear next to us. There's also a possibility that the bruin had seen few people and had not learned to fear them. The reason I didn't want to use my tag on that bear is I knew there were bigger animals visiting that bait that I wanted to try for.
Ultimately, the bear primarily wanted to get at the food we were close to. After Shamus drug his bear away from the bait, the live bear went to the bait and started feeding. I had never seen anything like that before during more than 50 years of bear hunting. The trail camera at the bait captured photos of the bear when it reached the bait and standing on its hind legs to look at us from the bait.
We left soon afterward. Shamus draped a coat over his bear to reduce the chances that other bears or wolves would mess with the carcass. We returned after dark to retrieve Shamus' bear. His bear weighed 185 pounds in the round.
Four out of the six of us who were hunting together filled their tags, but all of us could have taken legal bears. Seth only had two days to a hunt. He saw a legal bear one of those days, but it was smaller than he wanted to shoot. I was the second person who did not fill a tag. My hunt was disrupted when a rock put a hole in the oil pan of my vehicle on the second day.
Amos was kind enough to pick me up from the remote location where my vehicle was disabled and to act as my chauffer until I could get a replacement vehicle. Troy Westcott, who owns Lac La Belle Lodge with wife Cathy, was also kind enough to let one of his employees use his four wheel drive pickup truck and a flatbed trailer to haul my vehicle to a repair shop. 
I continued bear hunting after I got my vehicle repaired and passed up a couple more average size bears, but never filled my tag.