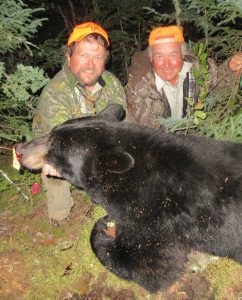 By:  Jacob VanHouten.
"I can't believe I lost that buck, with a good shot and strong blood trail… I just don't get it" was the depressing thought swirling around my mind as I recalled events to my family and friends in deer camp.
If you are a deer hunter, the loss of a deer has or may happen to you or someone you know during your hunting life. If so, you may want to now consider an underutilized method to increase your odds of recovery by the use of a tracking dog.  As of 2019, this option is now available to Minnesota residents (see attached MN Statute 97B.207 USING DOGS TO LOCATE WOUNDED DEER OR BEAR).  I have been using the technique since it became legal in Michigan years ago when I acquired a tracking dog for my own.  
HISTORY
The first time I observed a "blood-tracking" dog was while volunteering as a wounded deer recovery/tracker for limited mobility hunters participating in a NWTF Wheelin' Sportsmen Shiawassee National Wildlife Refuge deer hunt.  Held during the first three days of the Michigan rifle season, the hunt allows hunters, with the assistance of staff and volunteers, to have a chance at bagging a whitetail in an area typically closed to deer. One of the volunteers brought along his tracking dog, "Gus".  Along with myself, several volunteers and hunters were watching Gus, the "different looking" dog, wandering around the meeting site greeting people as they arrived.
  "What kind of dog is that?" people would ask.  The owner answered that Gus was a standard wirehaired Dachshund.  To the untrained eye, this handsome hound did not appear to be a "wiener dog", which is what most people think of when they hear "Dachshund" (and don't say "dash hound"), in either size or appearance.  
The value of a tracking dog was demonstrated after a group of us "master tracker" volunteers could not locate a participant's wounded deer. Gus came in and found the deer, with absolutely no visible blood, in less than 15 minutes.  This was a serious "wow" moment for me.  The owner told me he bought the dog in New York State.  I kept the memory of that experience tucked away.  Fast forward 10 years, after sharing the experience with my brother-in-law and loaning him the book:  Tracking Dogs for finding Wounded Deer by John Jeanneney, he purchased one.  He had great success with his dog which further convinced me, especially after I "lost" (as in couldn't find) a wounded buck during my 2016 deer season.  Thus my journey began to acquire my own tracking hound.
Background
The aforementioned book was written by the man that may be considered the "father" of on-leash tracking dogs in the U.S., John Jeanneney of Berne, New York.  First of its kind and in its 2nd edition (2016), his book provides everything needed to start using tracking dogs to recover wounded deer. Award winning deer and bear expert and outdoor writer Richard P. Smith considers this book a "ground breaking volume…" and also says: "This book should be required reading by all state and provincial commissions and administrators who are also responsible for setting regulations regarding the recovery of whitetails with dogs". 
A retired university history professor, John Jeanneney is a hunter, tracker, dog trainer/breeder (of wirehaired dachshunds) and author.  John began tracking deer in 1976 after being granted a research license from New York State's Dept. of Environmental Conservation. He was investigating the idea of using leashed tracking dogs to recover wounded deer. Since that time, he has personally recorded over 1,000 deer "calls" for deer tracking/recovery. Being an American hunter, he researched and read European literature on blood tracking since this is where it all began.  His book was the first in English that explained how a trained dog can be used to locate wounded deer which could not be recovered by other means.  His second book Dead on! (2010), covers deer anatomy, shot placement as well as wounded whitetail deer tracking techniques.
 The use of tracking dogs has been legal in many southern states and parts of Texas for quite some time, but has been "illegal" for more than a century in most northern states (for any activity connected to deer hunting). This has resulted in each state having to "specifically" legalize it.  Thanks to efforts of John Jeanneney starting in the 1970's, New York State legalized the regulated use of tracking dogs in 1986 (since then 24 other states have allowed the regulated use of tracking dogs to find wounded big game).  The state of Minnesota has now joined the ranks (2019) as indicated earlier.
If interested in finding out more, the group United Blood Trackers (unitedbloodtrackers.org) provides a good starting point. They are "…dedicated to promoting resource conservation through the use of trained tracking dogs in the ethical recovery of big game."  The term "blood tracking" is most often used, even though it can be misleading in that usually when called into action, the dog will be on a track where little or no blood may be present.  With experience and training, dogs can track individual wounded animals by other scents (such as interdigital gland).  Also, although primarily used to recover whitetail deer, tracking dogs (many breeds of dogs can be utilized) are used for many big game animals such as bear, moose, elk and hogs.
The puppy
After the decision to purchase was made, the application and other paperwork was completed and accepted (yes, this is serious business), my wife and I made the trip to New York to meet John and his wife Jolanta (publisher/editor Teckel Time, Inc. www.born-to-track.com), to pick up our new puppy.  Jolanta and John are an incredible couple that truly care about who will purchase one of their puppies and will spend as much time as needed with the new owners demonstrating training techniques and other priceless information.   The Jeanneney's only offer one or two litters of puppies per year so it is not cheap and not easy to acquire so we were very happy to get one on June 3rd of 2017.
Seeing our pup for the first time in his pen with 5 other puppies, we fell in love with "Jager"… pronounced "Yager", (the "a" has an umlaut in German), which translates to:  "Hunter". It was chosen due to his lineage being direct from Germany (the breed itself was developed there in the late 1800's to hunt badgers and foxes… Dachshund translates into English as:  badger hound).  Tommy, the sire Dachshund for Jager is a proven deer tracker and came directly from Germany.  
John and Jolanta spent time showing us how to use a liver and blood "drag" to train our young puppy on tracking a scent line.  At only 9 weeks old, Jager readily followed a one hour-old line which included three 90 degree turns. My wife and I were simply "wowed" by the demonstration.  Jager is a born tracker and is now a very happy member of our family now. Since that time, he has made many deer recoveries for numerous hunters (including my own and family members).  My family jokes that I got this dog only for "poor shooting relatives".  Not true! He was "born to track" and spends his fall recovering local hunters wounded or lost game.  He will be 3 years old this March and is just coming into his own and will continue to improve.
Training and use of tracking dogs
As indicated, there are many breeds of dogs that can be used for tracking deer. These include the scent hounds such as dachshunds, beagles, bloodhounds, coonhound; Pointers/Retrievers like labs, golden retrievers, Chesapeake's; Curs/Border collies ("Cow dogs and Cur dogs"); Old breeds like terriers, jack Russell, and German shepherds.  All have their own advantages and disadvantages of course. John's book covers man of these.
My preference is for dachshunds.  The dachshund has shown to be a formidable and versatile breed for tracking wounded deer and other big game. With their innate hunting sense, training of a newly purchased dachshund puppy can lead to an excellent chance of developing a usable tracking hound. This can be done by reinforcing natural instincts, basic obedience training, and motivating and encouragement, as well as "on lead" (deer tracking in MN must be done on 30 foot  leash or lead) training.
For best result, the owner/handler must work in tandem as a team with the tracking dog.  Communication with the hunter is important to determine perceived shot location or "wound" which will add to the successful conclusion of any track.  Young dogs can be started on a "drag line" of liver and blood and even the preferred German technique of using "Fahrtenshuhe" (Tracking Shoes) which uses an actual deer leg attached to a boot or shoe.  The leg from an individual deer must always be used as dogs recognize individual deer through the interdigital gland found between the hoofs of the deer.  A 30 foot lead that does not easily catch on brush can be used (different types of line/rope are used).  Typical rewards at the end of a drag line training session include "nibbles" on the liver, or a deer hide/skin or leg.
Tracking equipment may include collars, harnesses and leashes, GPS tracking collars, marking tape, lights and other essentials for working a track.  Like any other dog/handler "team", it is essential that they work together closely.  Each can recognize in the other, behaviors that will result in the positive outcome of a wounded game animal tracking event which is of  course what the hunter is hoping for; either in the location of the wounded game, or the determination that the shot/wound was not lethal.
Learning more
Now that Minnesota hunters can utilize a tracking dog to recover deer, obviously there is much to know and learn about tracking wounded big game such as deer. Many books and videos are now available (other than those previously mentioned), but a  few good books include: Tom Brown's The Science and Art of Tracking (Berkley, 1999); Richard P. Smith's Tracking Wounded Deer, How to Find and Tag Deer Shot with Bow and Gun (Stackpole Books 1988); and Niels Sonergaard's Scent and the Scenting Dog (Denmark, 2006).  As previously mentioned, the group United Blood Trackers.org (questions@unitedbloodtrackers.org) is also a good place to inquire and gain further information, including "Find-a-Tracker" listing and regulations for each state that allows the use of tracking dogs.   As always, during upcoming seasons, no matter which weapon utilized… make every attempt to make an ethical, lethal shot.  However, if the worst happens, consider utilizing a tracking dog (either of your own, or from an experienced handler) to recover your deer.  Good hunting!
Editor's Note:  Wild Game Dynasty is hosting Jake and his 'partner' Jager to this year's U.P. bear camp.  Jake says, "Since I have a bear hunting tag I will be a hunter first, and a dog handler second.  We really hope to keep WGD's U.P. bear recovery at 100%!"